The refrigerated transport industry is an important part of our economy. It delivers food and medicine to keep our population fed and in good health. XTL Transport is a key player in refrigerated transport and temperature controlled transport. XTL's recent acquisition of Transport Savoie expands their market capacity and deepens their experience into the US Market.
While XTL has offered dedicated domestic reefer service for over two decades, a key area of growth in recent years has been the expansion of its refrigerated service into the US market. Transport Savoie's refrigerated experience, particularly throughout the Eastern United States, is a great fit with XTL's existing network and is in strategic alignment with XTL's refrigerated growth strategy.
With 9 other locations across Canada, this acquisition extends XTL's presence in the Centre-du-Quebec region; a central location that supports industries in both the Montreal and Quebec City areas.
The Market is Growing
The challenge of perishability and the need to keep food and non-food categories at the optimum temperature to prevent spoilage are the main growth factors for the refrigerated truck market in the United States and Canada. The global market for refrigerated vehicles reached USD 12 billion in 2020 and will grow by 4% from 2020 to 2025.
A major driving factor of the market for refrigerated transport is the significant increase in demand for frozen products by households and food service operators such as fast food restaurants and other restaurants that require frozen food. This is due to the increasing globalisation and technological development of refrigerated transport systems for fresh, temperature-controlled food. The growth of the refrigerated transport market is expected to be driven by the increasing use of modern cold storage facilities, strict government regulations on the production, processing and transport of high-quality frozen foods and the rising international trade in perishable goods. In addition, the need for temperature controlled pharmaceutical products in a post COVID world will increase as the World prepares for high vaccination rates.
Reefers Cost More to Purchase and Operate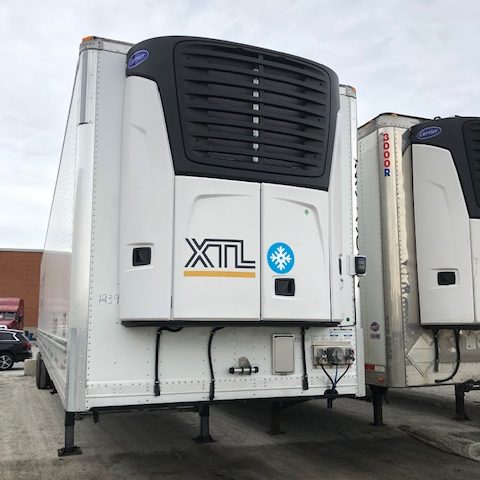 The average temperature controlled trailer used for refrigerated transport has a capital purchase price approximately $50,000 more than a regular dry van used to transport non temperature controlled goods. In addition, the refrigeration unit that keeps the trailer cool requires fuel to operate. This is an additional cost on a per mile basis that increases the cost of transport and can be up to 2% more in fuel costs. Keep this in mind when booking temperature controlled shipments as they are typically a premium over regular dry freight.
Refrigerated Transport Carriers are Doing Their Part to Save the Planet
Equipment manufacturers are doing their part to reduce emissions in both the power units and refrigeration units with the goal of zero emissions. The pressure on the equipment manufacturers is both from refrigerated transport carriers and government regulators. Future ideas being explored by the industry include battery operated refrigeration units and solar powered refrigeration units with solar panels being installed on top of the refrigerated trailer. In addition, the trailers purchased by XTL transport have high R values, which reduce the need for mechanical refrigeration. Plus, all new 2021 models contain 99% recyclable insulation which reduces environmental impact when a reefer unit is decommissioned.
The Driver Shortage is Increasingly Affecting the Refrigerated Transport Industry
While the industry wide driver shortage is affecting all modes of transport, the refrigerated transport industry is affected more so. Drivers who are trained and experienced at delivering food-stuffs and pharmaceuticals that require a high degree of temperature control and monitoring are even harder to find. The challenge for the entire transportation industry, including temperature controlled carriers is going to be not only to attract skilled drivers but also encourage new drivers to take up the profession and increase the capacity of the labour market for long haul truck drivers.
The Refrigerated Transport Industry Depends on Technology
With greater government regulation and safety procedures, the refrigerated transport industry increasingly relies on technology for compliance.
At XTL Transport for example, all reefer trailers are tracked via GPS and their clients have remote access to download GPS data for compliance and to verify their shipments were delivered according to plan. In addition, XTL's electronic monitoring systems send out alerts to fleet managers if the temperature of any shipment is outside of the shipment parameters for the temperature controlled shipment.
Conclusion
The refrigerated transport market is complex and growing. XTL is not only an expert, but is playing a key role in this market and has invested for the future. Contact XTL Transport for all of your refrigerated transport needs.